Description
A delicious and de-stressing mocha latte. Made with fair-trade, organic coffee, pure oat milk, a hint of sweetness from dates, and an adaptogenic blend of ashwagandha and maca to aid in stress defense. This is your daily latte with benefits.
Pantry friendly: store at room temp
Ashwagandha to help protect the body from the effects of stress
Maca to help increase energy and boost mood
Beta-glucans (soluble fiber) from oat milk
Healthy fats (MCTs) from coconut
*These statements have not been evaluated by the Food and Drug Administration. This product is not intended to diagnose, treat, cure, or prevent any disease.
Oat milk* (water, oats*)
cold brew coffee*
dates*
coconut cream*
cacao*
chocolate extract*
Himalayan pink salt
acacia extract*
ashwagandha*
maca*
rosemary antioxidant*
baking soda (acidity regulator)
*organic
No dairy
No soy
No refined sugar
No carrageenan
No pesticides
No preservatives
No junky extras
Dairy-Free
Heart boosting with no lactose
No Refined Sugar
Lightly sweetened with organic dates
Clean Ingredients
No junky extras, no preservatives, no emulsifiers
Customer Reviews
Write a Review
Ask a Question
09/18/2022
Rebekah D.

United States
More than Single Serve
I really love the Vanilla Oat Milk Latte but wish I would come in more than single serve. It seems wasteful. Just a thought.
09/18/2022
Kathy

United States
I am obsessed
I discovered these drinks at my local Wholefoods store. I haved tried the Cold Brew and the Green Tea flavors. Both are super delicious. Not too sweet. I have not been able to find these anywhere except at Wholefoods and only at the Santa Clara location. Half of my refrigerator is filled with theae drinks. I have 1 in the morning, and 1 before I sleep.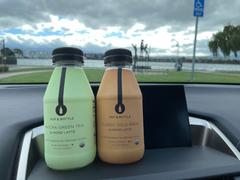 09/17/2022
Grace

United States
09/04/2022
Pamela

United States
08/30/2022
Rebekah D.

United States
No More Bloating
No More from Sugar and Heavy Cream in My Morning Coffee. This is a Game-Changer!!